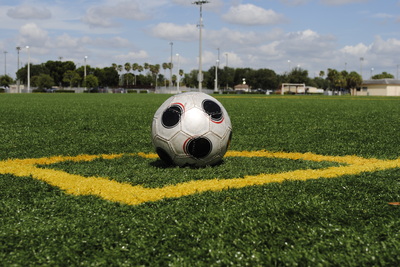 Advantages Of Synthetic Turf For Sports Fields
Apr 30, 2021
As COVID restrictions begin to lighten, we're seeing sports complexes and fields open up across South Florida. From high school fields to local parks, players will soon be returning with their team to highlight their skills. Unfortunately, a year off from play has also left fields with a year off from any maintenance whatsoever. Poorly maintained sports fields can lead to overgrown grass, weeds, crabgrass, holes, ant hills, and other unseen dangers that players may face. Rather than constantly face the high maintenance costs and time requirements that come with just one field, it might be time to make the switch to a fully synthetic turf sports field.
Simple Maintenance
One major benefit that comes switching to a synthetic turf sports field is the little to no maintenance required. Whereas traditional grass sports fields require constant maintenance and attention after every game, synthetic turf sports fields only need to be looked at once every three months. Depending on how heavily the field is used, you may need to check it closer to once a month to ensure it's still in top condition. Grass fields need full teams of groundskeepers to work on them, driving up overhead and equipment costs. With a synthetic turf sports field complex, you're able to minimize the amount of people required to upkeep your fields, and drastically reduce unnecessary costs on machinery, chemicals, etc. You can learn more by visiting our synthetic turf maintenance guide to learn more!
Increased Lifespan Over Grass Fields
When it comes to your fields, you want to know they'll stand the test of time, lasting years before needing to be entirely replaced. The constant wear and tear of grass fields, plus the torrential downpours and hurricanes South Florida faces can drastically decrease its lifespan. Thanks to technological advancements in the synthetic turf space, entire synthetic turf sports fields can last around 12 years before needing to be replaced, rather than having to patch in new grass every offseason.
Stunning Appearance
While your grass field probably looks lush at the beginning of the year, chances are constant wear and tear from game after game will leave it in disarray, even with significant maintenance. Hard dives and cleats leave hazardous holes that go unnoticed, and weeds can grow at an exponential rate, leaving your field in a very undesirable state. Overexposure to the sun with little to no water can leave grass turning yellow and dying. Thankfully, there's no fear of watching your field fall apart, as synthetic turf sports fields were designed to stay beautiful all year long. Through even the harshest conditions, you can count on a synthetic field looking gorgeous day in and day out.
With the offseason coming up once again this summer, it's the perfect time to replace your field with a synthetic turf sports field. Our Gator Turf installation team makes it easy from start to finish, transforming your field and bringing it into the future of sports. To learn more about our synthetic turf installation services, simply contact our team online or give us a call at (954) 510-TURF and we'll be happy to assist!