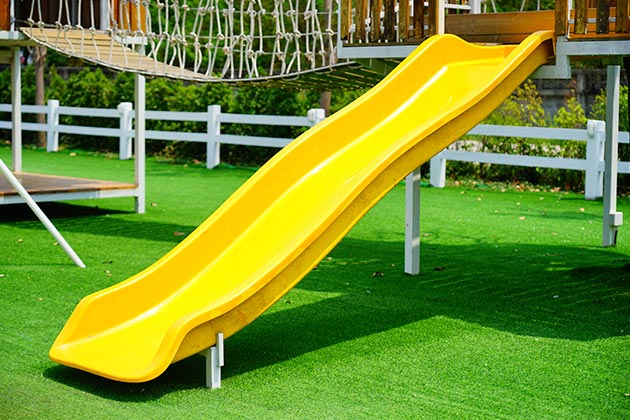 Why Artificial Grass is Amazing for Nurseries
Mar 1, 2022
Artificial grass is the perfect solution for everything from daycare, school, playgrounds, and even nurseries. Artificial grass brings improved aesthetic appeal and brings increased safety. When it comes to playgrounds and nurseries, you want to make sure your kids are having a good time but also safe. Artificial grass is an amazing option to have nurseries look amazing and provide peace of mind that everyone will be safe. 
Gator Turf's selection of different lengths of artificial grass gives an amazing selection that will all work perfectly for a nursery setting. 
Safety
The safety of your child is always the number one priority when making a decision for a nursery. That includes landscaping. Children love to run around, play, jump, and tumble. All of these different movements make scrapes and bruises inevitable. Gator Turf's artificial grass is the perfect choice for nurseries and daycares. You can expect increased protection that won't stop the fun from happening. Each of our different grass selections is IPEMA-certified and meets all the standards set by the American Society for Testing and Material. For nurseries, a foam layer will be installed under the turf in order to protect kids from falls of up to 10 feet high. The foam padding is made safe and durable and you'll never have to worry about your kid being injured while playing on Gator Turf. 
It's also possible to combine our artificial grass with an antimicrobial infill which can prevent bacteria growth and keep your sanctuary clean and safe. Artificial grass can protect your kids from scrapped knees and the flu season. 
Less Mess
It's happened to all of our kids. You send them off with clean clothes and they come back with stains, messy hair, and scrapes. A mess is inevitable when your kid is playing on the playground with others, but what if it was possible for them to come back as clean as they left? That is now a possibility. Artificial grass can reduce or even eliminate any mud or dirt in the play area. Artificial grass is installed with a drainage underlayer so there is no soil that can create mud. This means that rainy days and hours of play won't result in a dirty mess. Kids can now run around and play with no fear of getting their clothes or bodies dirty. 
Durability
Natural grass on a playground sees a lot. Running, stomping, jumping, sliding, and tackling are just a few examples of what it endures. With that much foot traffic, it's almost impossible to keep a play area's grass green and healthy. If you do, you'll be spending thousands on water per year. Artificial grass is loved by nurseries since it looks healthy and green all year long, no matter how many people step on it. No matter how much sunlight or water it receives, you can expect your grass to stay the way you got it.