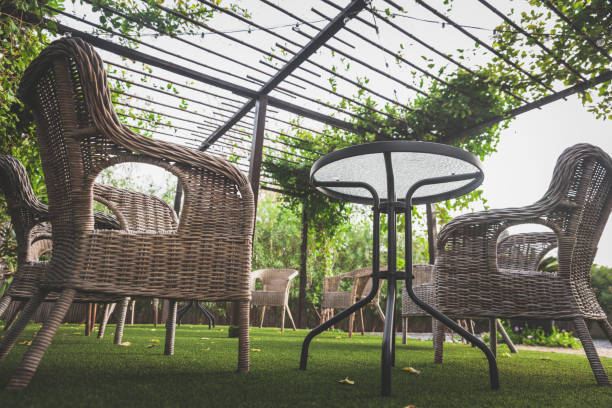 Take Your Artificial Turf Edging to the Next Level
Apr 1, 2022
Artificial turf is one of the most popular landscaping solutions on the market currently. In the past few years, its popularity for it has skyrocketed as homeowners have started to discover the number of benefits it provides. Having new artificial turf installed means you can expect a neat and pristine lawn with edging to match. Artificial turf allows for more versatility and creative edging materials than what you would see with natural grass. If you want to take your artificial turf edging to the next level, these tips can help. 
Paving Stones
Paving stones are one of the most popular options for artificial turf edging thanks to their sleek and elegant design and appearance. Using natural paving stones creates a beautiful contrast with the vibrant artificial turf. Hardscaping's durability makes artificial turf more secure and reduces wear. 
Brick Edging
Interlocking bricks around your turf creates a similar appearance to paving stones but with more intricacy. They also have a more traditional appearance that homeowners enjoy more than the super modern look. Bricks make for a solid choice and artificial turf will make sure that invasive weeds don't make their way in. 
Concrete Cubing
Concrete curbing is a great choice for artificial turf since it can be molded into any single shape or pattern. This means it is usually one slab instead of multiple bricks or pavers. This is a great option for homeowners on a budget that want a long-lasting, strong solution. 
Metal Borders
For those looking for a minimalist design, metal borders make for the perfect artificial turf edging. Thin metal lines offer a clean and simple appearance that complements almost any house design. They are also great for separating certain plants and flowers and they can match any existing shape. 
Raised Stones
Raised stones help add texture and dimension to your artificial turf. These are a much more dynamic option as they are more apparent than typical pavers. They also add more protection to your yard and garden. If you're looking for separation, raised pavers are a great option. 
Get Artificial Turf From Gator Turf
If you need help finding the right artificial turf edging technique, Gator Turf would be happy to help. We can help you find the perfect artificial turf product for your home. To find out what Gator Turf can do for you, visit our contact page today.