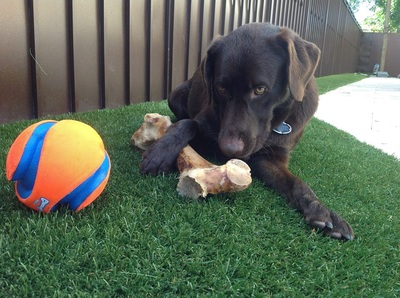 Is Artificial Turf Good For Dogs?
Aug 23, 2021
Dogs are man's best friend, but is artificial turf your dog's best friend? Dog owners have often questioned this as artificial turf has begun to become more and more popular each year. The good news is that it is completely safe for your dog and will never brown or produce mud the will inevitably be dragged through the house. It's also eco-friendly and drains very well. Artificial turf is produced with synthetic fibers that are meant to replicate the look and feel of real grass and have a bottom infill layer to keep it all in place. These materials will vary by company, but Gator Turf can guarantee that our materials are safe for your dog. 
Can Dogs Pee and Poop on Artificial Grass?
The simple answer is yes, your dogs can do their business. The downside, unlike natural grass, is that it won't break down or take in all the components of dog waste. Urine will easily drain through as there is a porous backing, however, poop will have to be manually picked up and disposed of. Once poop is picked up, make sure to spray off any remnants that are left to make sure the turf doesn't get stained. 
Will Pee Stain or Ruin The Artificial Turf?
The good news is your dog's urine will leave no damage to your artificial turf. You will have to spray it away so no odor is left behind or if you live in a tropical area, rain will take care of this naturally. There is also the option of installing designated "poop patches" that drain even better than the rest of the turf. 
How Should I Maintain Artificial Turf For Dogs?
The best way is to hose down the area your dog favors at least once a week. This will ensure that no long-lasting odor forms. It's also important to take care of any feces left behind by your dog as it won't decompose as it normally does on a natural lawn. Hosing down the turf is the only maintenance required to keep your turf looking clean and healthy. 
Looking For Dog-Friendly Artificial Turf?
If you're ready to make the switch and have your lawn transformed into artificial turf, visit our contact page today! We have locations in Tampa, Orlando, and Boca Raton!