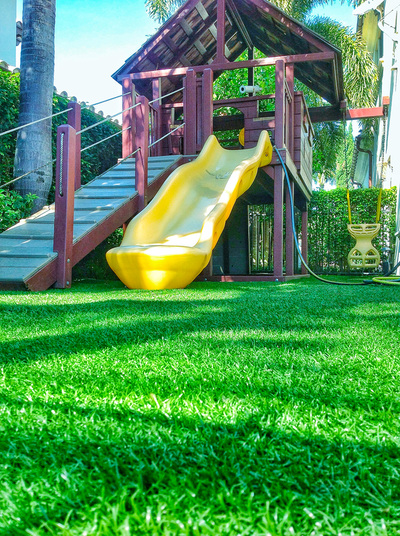 Creating Playgrounds with Synthetic Turf
Mar 23, 2021
Summer is fast approaching, and that that means the kids will be out of school. Parents across South Florida will be looking for ways to entertain them during the long summer days. With the global pandemic still being ever-present, most parents will be apprehensive to have their children playing in public spaces. But what to do? How do you get the little ones outside to enjoy the carefree days of summer in a safe way? Well, why not install synthetic turf in the backyard and turn it into a safe and secure playground for your children.
Using the Best Artificial Turf in Boca Raton Guarantees Unlimited Fun!
Artificial turf can transform any mundane backyard into a magical wonderland of possibilities. Synthetic turf promotes year-round activity on safe and resilient surfaces. Increased activity helps reduce childhood obesity and promotes well-being. Synthetic turf eliminates the use of potentially harmful pesticides and fertilizers while significantly decreasing maintenance costs. Synthetic turf offers the following benefits for playground design:
Hypoallergenic, non-toxic, and antibacterial materials
Synthetic turf drains easily so kids can get right back to playing once the rain stops
The shock-absorbent layers help to cushion falls and lessen the chances of cuts and bruises
Due to its versatility, it can accommodate multiple design and layouts
Made from long-lasting materials, artificial turf can stand up to all the dodgeball, and Bocce Ball kids can throw at it
Not to be left out the adults can use the space as a home putting green so you can practice your short game from the comfort of your home
Ohh and just because your backyard is now kids' paradise doesn't mean it can't look sophisticated at the same time – add a few lawn chairs and some custom decor and you have an oasis in your backyard
How To Turn Your Backyard into a Synthetic Turf Playground Paradice
From complex installations like trees to simpler ones like lighting, you have many design approaches to try. Talk to the professionals at Gator Turf about getting creative with your playground. We have installed turf in multiple backyards and know a thing or two about how to properly utilize your space. Our experts can inform you of what type of turf works best for our backyard and then the fun part begins. How to turn your brand new turf into the ultimate playground paradise. Here are a few ideas on how to do just that:
Plant Trees Beside Your Synthetic Turf
As simple an idea as it sounds, planting trees is a great way to add to and beautify a playground! We know your next question is "Can I combine live trees with synthetic turf? The answer is yes. Yes, you can combine live plants and trees with synthetic turf. There are some great species of trees that are perfect for areas covered by synthetic turf, species such as the Newport plum and flowering dogwood are both great. They bloom flowers that are vibrant and will match well with the rich green of your synthetic turf. Their root structure also doesn't cause damage to the surrounding turf making them great trees to plant in your play area. If you add a swing set or jungle gym make sure there's enough room between it your trees. If the trees are too close, then the little ones may accidentally bump into it while playing, also be sure to regularly prune the trees and remove any fallen leaves or branches to keep your turf free from clutter and potential damage.
Install a Privacy Fence or Hedges
Privacy fences and hedges add a layer of security to your yard. Also, they ensure that your children and their friends remain safe from passersby and vehicles. You can also customize the appearance with plants, flowers, and garden fixtures. To add some extra privacy add some creeping vines over privacy walls. They perfectly match the thick, evergreen appearance of the best artificial turf in Palm Beach. As for hedges, install edging material such as our lavender hedge mats or our cypress hedge mats between your perimeter fence and your turf. We have a range of materials and colors that will match well with your play area and create an attractive border.
Add Lighting to Your Synthetic Turf
Playsets can serve as a design focal point of your backyard. This can be enhanced with strategically placed up and down lighting. Proper lighting can beautify the space and make your turf functional at night. The ideal places to install them are under the ceiling and on the upper and lower bars. You can even place lampposts or floor lamps nearby to light up the playset from any angle. LED lighting is best suited for ground installations since they are incredibly cost-effective and most importantly they emit less heat, making them perfect for artificial grass.
Let Gator Turf Install Your Boca Raton Artificial Turf and Create a Backyard Wonderland
Playgrounds don't just benefit children. In fact, they also reward you by increasing the visual appeal and value of your property. They're also the best place to bond with family and friends! Contact Gator Turf today to learn more about how to upgrade your yard with artificial grass. For any inquiries, you may call us at 954-510-8873 or visit our contact page.