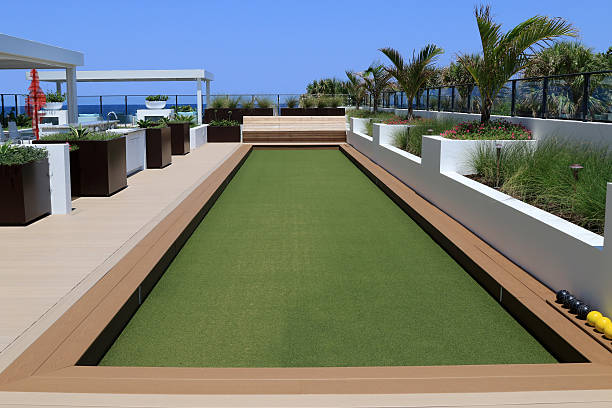 Can You Use Artificial Turf on a Rooftop?
Dec 5, 2022
Can You Use Artificial Turf on a Rooftop?
Artificial turf has been booming in popularity recently. All across the country, homeowners and business owners alike are finding new and unique ways to use synthetic grass to enhance their areas' usability and aesthetics. You can find artificial grass on walls for decoration, indoor gyms for safety and function, and underneath playsets so that children can play without fear of serious injury. Artificial turf works incredibly for each of these scenarios, but what about on rooftops? 
There has been significant interest recently in having artificial turf installed on rooftops in order to achieve a unique, vacation-like setting. Now the question is can you install artificial turf on rooftops and is it a smart idea? Gator Turf is here to break this down and provide you with the answer you're looking for. We can help you find and install the perfect turf material that you've been looking for. 
Artificial Turf on Rooftops
The answer is YES, you can install artificial turf on rooftops, but there are some requirements in order to do this. No matter where you install turf, there needs to be proper drainage. This isn't a problem if you're installing turf on a slanted roof since it will roll off, but if it's a flat roof, you need to ensure that moisture is going somewhere. The contractor you work with should be able to provide you with the best solution to this. 
Artificial Turf Last Longer Than You Think
Typical shingle roofing will need to be replaced every 20 years or so. The duration will vary depending on the actual quality of the shingle of course. Artificial grass will last as long, if not longer than this, but it will depend on the application and quality of the turf that is used. 
Roofs with artificial turf will also last longer depending on the amount of foot traffic it sees. You can rely on rooftops with artificial turf installed on them to last around 15 to 25 years. 
Bring Outdoor Space to Any Rooftop
One of the largest benefits and reasons why artificial turf installation on rooftops is so popular is because it creates a valuable outdoor space, especially in cities where this can be difficult to find. Living in cities such as Miami, Orlando, and Tampa can make it difficult to have backyards and gardens. That is why you need to find unique ways to bring premium green spaces to your living space. On top of this, finding new and unique ways to create usable outdoor space is a great way to improve your quality of life as well as increase the value of your property. 
Adding artificial turf to your roof will allow you and your friends to hang out, let pets run around, and play games in the safety of your own property. 
Get Artificial Turf Installed in Florida
Artificial turf has been on a steady rise in recent years and there are plenty of reasons for this. There's no reason why you can't start enjoying synthetic grass as well. Gator Turf is here to help with your artificial turf installation all around Florida. Visit our contact page today if you are ready to find the artificial turf you've been looking for.