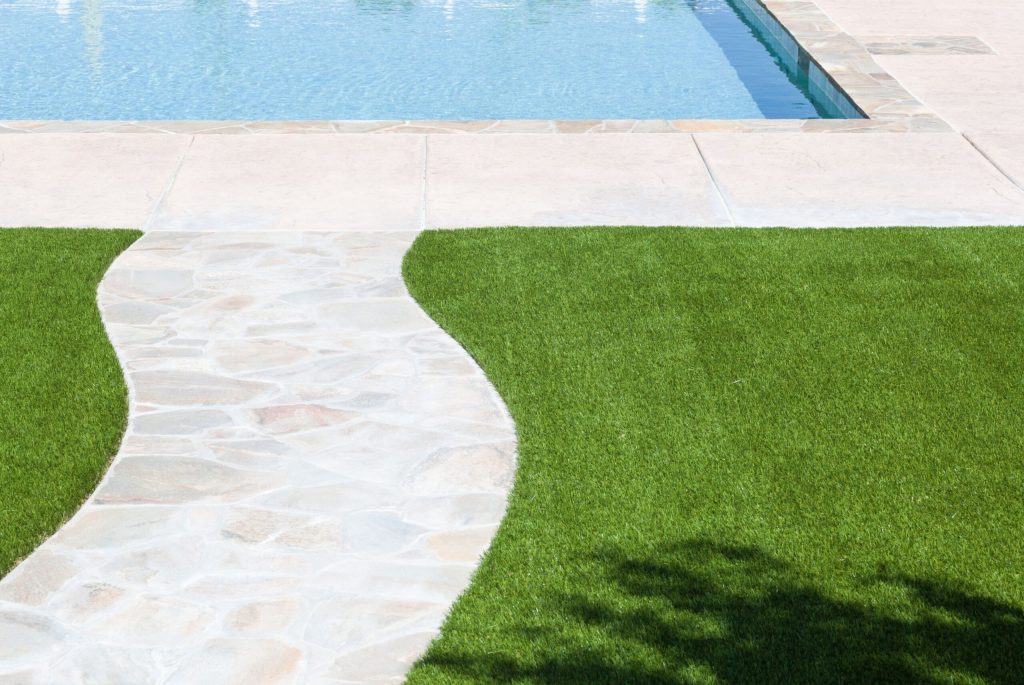 Can You Put Artificial Grass Near a Pool?
Oct 4, 2022
Stop Dealing With Weekly Lawn Chores
The pool in your backyard is the centerpiece that draws everyone's attention. Your pool, however, will only look as good as the green lawn surrounding it. Natural lawns are a magnet for all kinds of different pests and debris, including algae. You can't forget about mud either, which will form quickly as soon as the water is thrown out of the pool. 
While there are other natural solutions to having a lawn, such as stones and paver walkways, they can be difficult to maintain, especially if you have kids and pets running around. This can leave you with the task of cleaning up kicked-around rocks.
The best alternative? Artificial grass around your pool. This is the most beautiful and low-maintenance option that you can make! 
Before you continue, we'll break down some pros and cons of having other common pool surrounding materials.
Natural Grass
Having a lush green lawn around your pool is one of the best looks for your backyard. While it is fairly low maintenance, there are a number of chores involved in order to keep it looking green. This includes mowing, watering, fertilizing, and pulling weeds. 
The grass is also a magnet for insects like ants, bugs, and rodents who can destroy the look of a lawn if not properly cared for. 
Natural grass can also be dangerous when wet. Chemicals from the grass can also seep into the pool which can lead to mold, mildew, and algae growth. 
Flagstone
This is a common choice for many homeowners. Paving an area with flagstone or brick pavers can look beautiful and create a more even surface compared to grass. It is an expensive option that gets more expensive the thicker the surface is. It can also be a pain to clean up each week since rocks will get kicked around.
Concrete
Concrete is an inexpensive material and makes for a better walkway. It can be rather hard to maintain however since it will stain easily and can crack from eventual erosion. 
Wood
Wooden decks look great around the pool, but they can be a pain to maintain. You'll have to regularly paint and stain the wood to keep it looking great. Wood is also susceptible to rotting and wrapping which is unavoidable near a pool due to water splashing. 
Benefits of Artificial Grass Around Your Pool
Homeowners all across the country choose artificial grass as the perfect blend of beauty and maintenance. Here are just a few of the benefits that come with artificial grass near your pool:
Slip Resistant
Turf around your pool won't become slippery when it's wet, allowing your kids and pets to run around without fear of injuries. 
Easy To Maintain
Synthetic turf is super easy to maintain. All you need to do is sweep leaves and debris that fall onto them and hose it off once a month for easy cleanup.
No Chemicals
Fake grass requires no fertilizer or water to maintain. This means no chemical runoff into your pool, creating a safer environment for everyone. 
Mud-Free
Since there is no dirt or soil underneath, you don't need to worry about muddy messes. Artificial grass is also great at repelling moisture.
Long-Lasting
Synthetic grass will handle any climate. Rain, snow, and heat don't stand a chance against fake grass. 
Get Synthetic Turf Around Your Pool Today!
Stop dealing with muddy messes and regular maintenance. Gator Turf has artificial turf for your backyard. We'll also handle the installation so you only have to work with us. We know what it takes to transform your outdoor area. Contact us today if you want your pool area to look better than ever.