Artificial Grass Repair in West Palm Beach
Is your artificial grass in West Palm Beach showing signs of wear and tear? Are there patches on your lawn that are thinning out or displaying discoloration? Fret not, because Gator Turf is your ultimate solution for top-tier artificial grass repair in West Palm Beach, Florida.
Our dedicated team at Gator Turf comprises highly trained specialists who have honed their skills in the art of restoring and maintaining artificial grass landscapes. We understand that even the finest artificial grass can undergo wear and tear, especially in high-traffic zones or those exposed to the elements. That's precisely why we extend a comprehensive suite of artificial grass repair solutions, tailored to bring your lawn back to its original splendor.
Our repair services encompass a wide spectrum of solutions, each meticulously crafted to address your specific requirements. Whether it's rectifying holes or tears, replacing damaged sections of grass, or resolving any issues with the infill, our adept technicians will leave no stone unturned in ensuring that every facet of your lawn is treated with the utmost precision and care. We exclusively employ premium materials and state-of-the-art equipment, assuring outcomes that are nothing short of exceptional.
Irrespective of the scale of repair required, our squad of experts is fully equipped to tackle any task. We take immense pride in our work and labor relentlessly to ensure that your lawn not only looks impeccable but also performs optimally. Don't hold back any longer – reach out to us today to glean further insights about our adept artificial grass repair services in West Palm Beach, Florida. Allow us to reinstate your lawn to its former magnificence and bestow upon you the stunning and enduring artificial grass surface you yearn for.
Gator Turf Is Your Local Solution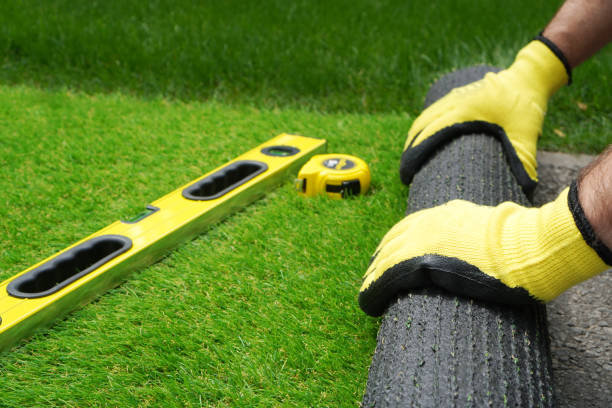 Our skilled professionals excel in rejuvenating and fixing tired or impaired artificial lawns, guaranteeing your residential or business area maintains its optimal appearance throughout the year. Whether it's addressing rips and gaps or replenishing patches of thin turf, we employ top-notch resources and methodologies for an impeccable repair that seamlessly integrates with your current synthetic grass. Our tailor-made repair strategies are tailored to the specific demands of every assignment, delivering outstanding outcomes that go above and beyond. Embrace the allure of a vibrant, flourishing turf minus the burdensome upkeep of natural grass with Gator Turf, the go-to specialists for artificial grass repair in West Palm Beach.
Advantages of Artificial Turf Repair in West Palm Beach
Enjoy the beauty of an evergreen lawn that effortlessly weathers the elements and stands strong against constant foot traffic. Unlike its natural counterpart, synthetic turf boasts unparalleled resilience, ensuring a pristine appearance that lasts for years. Gator Turf is your trusted partner for all things related to "Artificial Grass Repair in West Palm Beach," dedicated to upholding the charm of your outdoor space.
Tired of the unpredictable nature of natural grass? Make the switch to synthetic turf for a consistently pristine look, regardless of the season. Gator Turf guarantees a year-round, flawless lawn that adds to the curb appeal of your West Palm Beach property. Say hello to a lush, green expanse that never fades, and let us take care of all your artificial grass needs in the beautiful city of West Palm Beach, Florida.
The Gator Turf Difference
Gator Turf is your ultimate destination for top-tier artificial grass repair in West Palm Beach. Our dedicated team of experts understands the significance of upkeeping the flawless look and usability of synthetic lawns. No matter the cause, whether it's wear from frequent use, the relentless Florida weather, or other factors, we possess the know-how to evaluate the problem and offer effective solutions that flawlessly reinstate your turf's former grandeur. With our exceptional repair remedies, you can sidestep the inconvenience and financial burden of a full replacement.
Here at Gator Turf, we're driven by our commitment to deliver extraordinary outcomes that outshine your expectations. Employing cutting-edge methodologies and premium-grade materials, we guarantee robust and enduring repairs. Our primary aim is to artfully integrate the mended sections with the surrounding grass, leaving no hint of past harm. With our adept and dependable service, rest assured that your synthetic lawn will undergo meticulous restoration, keeping its visual allure and practicality intact for the long haul. Get in touch with Gator Turf today to experience unmatched artificial grass repair services in West Palm Beach, and let us rejuvenate the charm and performance of your synthetic turf.
Have Your Artificial Turf Repaired Today!
Artificial turf repair in West Palm Beach will keep your turf looking its best all year long! If you're still using natural grass, it's time to make the switch today. Our team is ready to assist you with any questions you may have, providing a quote, or anything else we can help with. Simply contact us online or give us a call at (954) 510-8873 to get started!