Artificial Grass Repair Wellington
Are you experiencing issues with your artificial grass in Wellington, Florida? Has your once beautiful green lawn lost its appeal due to damage or wear and tear? At Gator Turf, we understand that maintaining a pristine artificial grass lawn can be a challenging task, particularly with Florida's unpredictable weather conditions. Our team in Wellington is here to help you revive your artificial grass lawn with our professional repair services.
We specialize in designing, consulting, and repairing top-of-the-line artificial grass systems for various residential and commercial properties. Our Wellington team recognizes the challenges that come with keeping an artificial grass lawn in top shape. Over time, artificial grass can develop problems such as tears, rips, and worn-out areas, which can be unsightly and hazardous.
By opting for our professional repair services, you can eliminate these challenges and enjoy a lawn that consistently looks its best. Our expert team is trained to handle all kinds of repair work, from small patches to entire lawn replacements. We use only the highest-quality materials and techniques to ensure long-lasting and durable repair.
If you're ready to give your artificial grass lawn a new lease on life and make it more attractive and safe for your family and guests, Gator Turf is the perfect choice for your artificial grass repair needs in Wellington. Our team of experts will handle everything from consultation to repair, ensuring that your lawn meets all of your expectations and requirements. Allow us to assist you in elevating your lawn with our superior artificial grass repair solutions. Choose Gator Turf for your Wellington artificial grass repair needs and experience the difference.
Gator Turf is Your Local Solution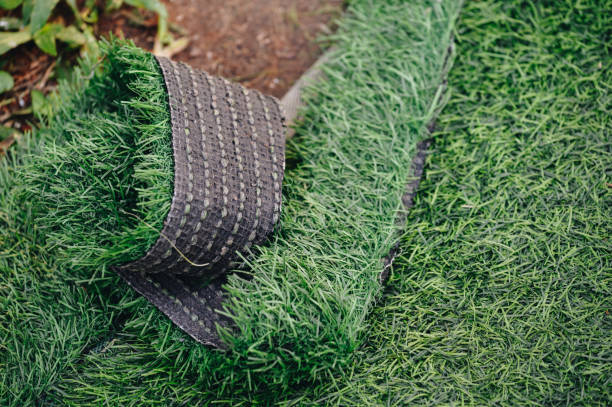 Has your artificial grass started to look worn or faded? Let the experts at Gator Turf help. Our team in Wellington, Florida, can give your artificial grass a fresh look with our top-of-the-line repair services. We use the latest techniques and tools to repair damaged areas, replace worn-out patches, and restore the vibrancy of your turf. Our team understands that every property is unique, which is why we offer customized solutions to meet your specific needs. Don't let a damaged lawn ruin your curb appeal. Call us today to schedule your artificial grass repair appointment in Wellington.
Advantages of Artificial Turf Repair in Wellington
One of the major advantages of artificial grass is its durability. Just like natural grass, artificial grass can become damaged and worn out due to constant use and exposure to the elements. However, with our repair services, you can schedule as many outdoor activities as you want without worrying about the condition of your turf. Our experienced technicians can restore the fibers and infill of your turf, ensuring a long-lasting playing surface for years to come.
Another benefit of artificial grass repair is the uniformity of the playing surface. Over time, artificial grass can become uneven and develop bumps and ruts, which can negatively impact gameplay. However, with our repair services, we can level your turf and restore its consistency, providing a fairer and more predictable playing surface for all.
In the long run, artificial grass repair can be a cost-effective solution. Although the initial investment in artificial turf may be higher than in natural grass, our repair services can save you money on the need for frequent replacements. Additionally, with minimal maintenance requirements, artificial turf can save you money on watering, fertilizing, and mowing in the long term. Choose Gator Turf for your artificial grass repair needs in Boca Raton, and enjoy a high-quality, long-lasting playing surface.
The Gator Turf Difference
When it comes to maintaining a perfect-looking artificial grass lawn, occasional repairs are unavoidable. Boca Raton, Florida residents know that heavy rainfalls and extreme weather conditions can sometimes cause damage to their turf. Fortunately, Gator Turf offers professional artificial grass repair services to help keep your lawn looking its best.
Artificial grass repair in Boca Raton, Florida involves more than just patching up the visible damages. At Gator Turf, we use advanced techniques to identify and address underlying issues that may cause further damage to your lawn in the future. Our team of experts can handle a wide range of repair needs, including patching up tears, fixing uneven surfaces, and replacing worn-out areas.
Have Your Artificial Turf Repaired Today!
Artificial turf repair in Lake Worth will keep your turf looking its best all year long! If you're still using natural grass, it's time to make the switch today. Our team is ready to assist you with any questions you may have, providing a quote, or anything else we can help with. Simply contact us online or give us a call at (954) 510-8873 to get started!