Artificial Grass Repair in Tamarac
Is your artificial grass in Tamarac showing signs of wear and tear? Are there areas of your lawn that are thinning out or have become discolored? Look no further than Gator Turf for top-notch artificial grass repair services in Tamarac, Florida.
With years of experience in repairing and maintaining artificial grass lawns, our team of experts understands that even the highest-quality turf can experience issues over time, especially in high-traffic areas or under the effects of the elements. That's where our comprehensive artificial grass repair services come in, aiming to restore your lawn to its original pristine condition.
Our skilled team is proficient in patching up holes or tears, replacing damaged sections of grass, and fixing any issues with the infill, ensuring that your artificial turf looks as good as new after our work is complete.
Emphasizing the benefits of a well-maintained artificial grass lawn, Gator Turf highlights how it can lead to lower maintenance costs, increased durability, and enhanced aesthetics for your property in Tamarac, Florida.
From minor touch-ups to complete overhauls, our team at Gator Turf is dedicated to ensuring your artificial grass lawn in Tamarac looks its best and delivers exceptional performance. Don't hesitate; reach out to us today to discover more about our professional artificial grass repair services.
Gator Turf Is Your Local Solution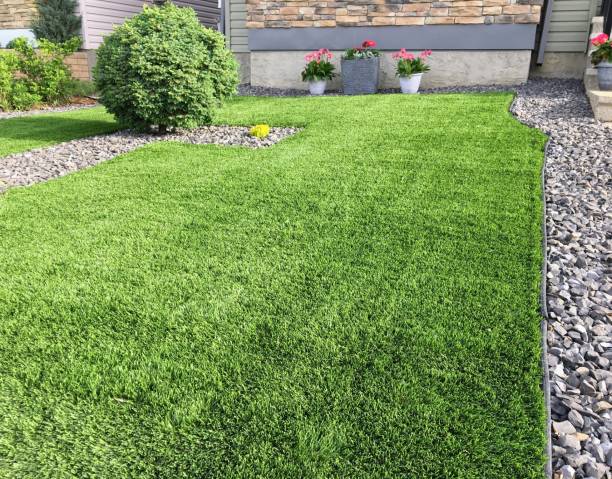 As your local experts in artificial turf installation and repair, we are here to bring life back to your worn or damaged synthetic lawn. Our experienced team specializes in providing top-notch artificial grass repair services, ensuring that your yard or commercial property maintains its pristine appearance year-round.
At Gator Turf, we understand that the wear and tear of everyday use can impact the beauty of your artificial grass. That's why we take a personalized approach to every repair project. Our team will thoroughly assess the damage, creating a tailored repair plan to address your specific needs. From fixing seams and tears to restoring bare spots, we employ cutting-edge techniques and utilize the finest materials to deliver seamless repairs that blend flawlessly with your existing turf.
Advantages of Artificial Turf Repair in Tamarac
One of the standout benefits of choosing artificial turf for your outdoor spaces is its exceptional durability. Unlike natural grass that can easily wear out or get damaged by weather and foot traffic, synthetic turf from Gator Turf is designed to endure heavy use and maintain its pristine appearance for many years. With our top-quality artificial turf installation and repair services in Tamarac, you can relish a lush and vibrant lawn without the constant worry of maintenance and upkeep that comes with natural grass.
Another advantage of artificial turf is the consistency it brings to your lawn's appearance. Natural grass can sometimes have varying thickness and quality, leading to an uneven and patchy appearance. However, with Gator Turf's premium synthetic turf, you can enjoy a perfectly manicured lawn all year round, regardless of the weather conditions or seasonal changes.
While the initial investment in synthetic turf may be higher compared to natural grass, the long-term cost-effectiveness is a significant advantage. With minimal maintenance requirements and excellent durability, synthetic turf can save you money on landscaping services over the years. Choosing Gator Turf for your artificial grass repair needs in Tamarac, Florida, means investing in a high-quality, long-lasting lawn that will continue to impress for years to come.
The Gator Turf Difference
Synthetic turf from Gator Turf offers the Gator Turf Difference in Tamarac, providing unbeatable durability that outperforms natural grass. Unlike natural grass, which can wear out and suffer from weather-related damages, our synthetic turf is engineered to withstand heavy foot traffic and adverse weather conditions. With Gator Turf's installation and repair services, you can enjoy a pristine and vibrant lawn year-round without the hassle of constant maintenance.
Not only does synthetic turf from Gator Turf require minimal maintenance, but it also eliminates the need for watering, fertilizing, and mowing. This means you can say goodbye to time-consuming yard work and expensive landscaping services, allowing you to spend more quality time enjoying your outdoor space with friends and family.
Have Your Artificial Turf Repaired Today!
Artificial turf repair in Tamarac will keep your turf looking its best all year long! If you're still using natural grass, it's time to make the switch today. Our team is ready to assist you with any questions you may have, providing a quote, or anything else we can help with. Simply contact us online or give us a call at (954) 510-8873 to get started!