Artificial Grass Repair in Sunrise
Are you noticing signs of wear and tear on your artificial grass? Perhaps thinning areas or unsightly discoloration? Worry no more, Gator Turf offers top-notch artificial grass repair in Sunrise, Florida.
Our repair services cover everything from patching up holes or tears to replacing damaged sections of grass and addressing any issues with the infill. With a focus on using only the finest materials and cutting-edge equipment, we guarantee your lawn will look as good as new once we're done.
A well-kept artificial grass lawn offers a plethora of advantages, from cost-effectiveness to enhanced durability and superior aesthetics. At Gator Turf, we take immense pride in offering top-of-the-line repair services to our customers in Sunrise, Florida.
Whether your lawn requires minor touch-ups or a complete transformation, our dedicated team of experts is at your service. We take ownership of every project, striving to deliver not just an appealing lawn but also an exceptional performance. Don't hesitate any longer – reach out to us today to explore the finest artificial grass repair services available in Sunrise, Florida.
Gator Turf Is Your Local Solution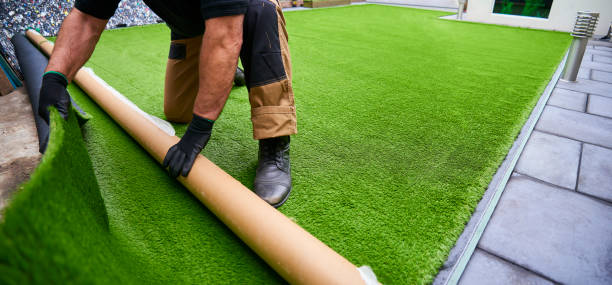 With our unmatched expertise and dedication to excellence, we specialize in reviving and restoring worn or damaged synthetic turf, leaving your residential or commercial property looking stunning all year round. We understand that natural wear and tear can impact the appearance of your artificial grass, but fear not, our skilled team is here to breathe new life into it.
Each artificial grass repair project is treated with the utmost care and attention at Gator Turf. We begin by meticulously assessing the extent of the damage, and tailoring a personalized repair plan that suits your specific needs. From mending seams and tears to ensuring even coverage in bare spots, our team utilizes top-of-the-line materials and cutting-edge techniques to achieve a seamless repair that seamlessly integrates with your existing turf. We are fully committed to delivering exceptional results and surpassing your expectations, granting you the pleasure of a beautiful, vibrant lawn without the hassles of traditional grass maintenance.
Advantages of Artificial Turf Repair in Sunrise
Synthetic turf repair in Sunrise offers numerous advantages, making it an ideal choice for homeowners and businesses alike. One standout feature is its unmatched durability, which surpasses that of natural grass. While natural lawns can easily succumb to wear and tear from weather conditions and constant foot traffic, synthetic turf from Gator Turf is engineered to withstand heavy use while maintaining its pristine appearance for years to come. With our artificial turf repair services, you can relish a beautiful, green lawn without the constant upkeep and maintenance associated with natural grass.
Another appealing aspect of synthetic turf is its consistent, uniform appearance year-round. Natural grass can vary in thickness and quality, leading to an uneven and patchy lawn. On the other hand, with synthetic turf installation, you can achieve a flawlessly manicured look regardless of the season or weather conditions. Say goodbye to the hassles of dealing with brown patches or overgrown areas; Gator Turf ensures a picture-perfect lawn that stays lush and vibrant all year long.
Choose Gator Turf as your trusted partner for artificial grass repair in Sunrise, and experience the advantages of synthetic turf firsthand. Our team of skilled professionals ensures meticulous installation and efficient repairs, guaranteeing a lawn that stands the test of time. Embrace the durability, low maintenance, and year-round beauty of synthetic turf by reaching out to Gator Turf today.
The Gator Turf Difference
When it comes to durability, synthetic turf is unmatched. Unlike natural grass that can succumb to weather conditions and heavy foot traffic, our high-quality artificial turf is designed to withstand the test of time. You'll enjoy a lush, green lawn that maintains its pristine appearance for years, without the hassles of constant upkeep and maintenance.
Say goodbye to endless watering, fertilizing, and mowing with our synthetic turf options. Gator Turf's products require minimal maintenance, giving you more time to relax and enjoy your outdoor space. By eliminating the need for regular landscaping services, our artificial turf helps you save both time and money.
With natural grass, achieving a consistently well-manicured look can be challenging due to varying thickness and quality. But fear not, with Gator Turf's synthetic turf, you'll have a flawlessly manicured lawn all year round, regardless of the weather or season.
Have Your Artificial Turf Repaired Today!
Artificial turf repair in Sunrise will keep your turf looking its best all year long! If you're still using natural grass, it's time to make the switch today. Our team is ready to assist you with any questions you may have, providing a quote, or anything else we can help with. Simply contact us online or give us a call at (954) 510-8873 to get started!