Artificial Grass Repair in Sanford
Is your synthetic turf in Sanford showing signs of wear and tear? Are there areas on your lawn that are thinning out or showing discoloration? Fret not, because Gator Turf is your trusted solution for expert artificial grass repair in Sanford, Florida.
Our skilled team at Gator Turf comprises experienced professionals who specialize in rejuvenating and upkeeping synthetic grass lawns. We understand that even the highest-quality artificial turf can undergo wear and tear over time, particularly in frequently used areas or spots exposed to the elements. This is precisely why we offer comprehensive artificial grass repair solutions designed to bring your lawn back to its original splendor.
Our repair services encompass a variety of tailored solutions to address your unique needs. Whether it's mending holes or tears, replacing sections of damaged grass, or rectifying issues with the infill, our proficient technicians ensure every facet of your lawn receives the utmost care and precision. We utilize premium materials and state-of-the-art equipment to ensure exceptional outcomes.
Keeping a well-maintained artificial grass lawn comes with numerous advantages, such as reduced upkeep costs, enhanced durability, and heightened visual appeal. At Gator Turf, we are committed to providing top-tier repair services to our esteemed clients in Sanford, Florida.
Regardless of the scale of repair required, our team of experts is fully equipped to handle any task. We take immense pride in our work and work tirelessly to ensure your lawn not only looks impeccable but also performs optimally. Don't delay any further – reach out to us today to discover more about our expert artificial grass repair services in Sanford, Florida. Allow us to rejuvenate your lawn to its former glory and provide you with the stunning and resilient artificial grass surface you desire.
Gator Turf Is Your Local Solution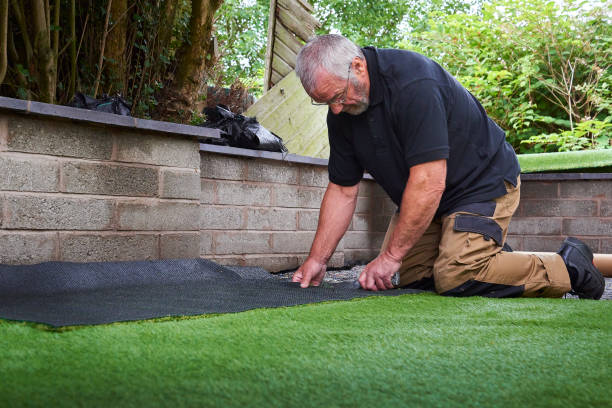 Our skilled crew is dedicated to revitalizing and fixing tired or impaired artificial lawns, ensuring your residential or business area maintains its top-notch appearance throughout the seasons. Whether it's patching up seams and rips or replenishing bare patches, we employ premium-grade materials and methods for a faultless restoration that harmonizes seamlessly with your current synthetic turf. Our tailor-made repair strategies address the distinct requirements of every venture, producing remarkable outcomes that go beyond what you anticipate. Experience the charm of a picturesque, thriving lawn without the headache of traditional grass upkeep, courtesy of Gator Turf, the go-to specialists for artificial grass repair in Sanford.
Advantages of Artificial Turf Repair in Sanford
Enjoy a pristine lawn that stands up to heavy use and preserves its impeccable look year-round. Unlike real grass, artificial turf offers unparalleled durability against foot traffic and changing weather conditions. At Gator Turf, we take immense pride in delivering exceptional solutions for "Artificial Grass Repair in Sanford," ensuring that your lawn remains lush and inviting.
Say farewell to the inconsistency of natural grass, which can affect the overall look of your yard. By selecting synthetic turf, you can achieve a consistently well-manicured appearance, regardless of the weather or season. Gator Turf assures a flawless lawn that maintains its charm year-round, enhancing the visual appeal of your Sanford, Florida property.
The Gator Turf Difference
Gator Turf stands as the premier choice for exceptional artificial grass repair services in Sanford, Florida. Our dedicated team of experts recognizes the significance of upholding the immaculate appearance and performance of synthetic lawns. Whether your artificial turf has faced wear and tear from heavy usage, inclement weather, or other elements, we possess the know-how to evaluate the problem and deliver effective repairs that seamlessly rejuvenate its original magnificence. Our top-tier repair solutions offer a practical alternative to the inconvenience and cost of replacing the entire installation.
Here at Gator Turf, we take immense pride in delivering outcomes that consistently surpass our clients' expectations. Employing cutting-edge methodologies and superior-grade materials, we ensure repairs that are not only enduring but also resilient. Our aim is to harmoniously integrate the mended areas with the surrounding turf, erasing any traces of past damage. With our proficient and trustworthy services, you can place your confidence in the meticulous restoration of your artificial lawn, preserving its visual allure and practicality for many years to come. Get in touch with Gator Turf now for unmatched artificial grass repair solutions in Sanford, Florida. Allow us to revive the allure and functionality of your synthetic turf with unparalleled expertise.
Have Your Artificial Turf Repaired Today!
Artificial turf repair in Sanford will keep your turf looking its best all year long! If you're still using natural grass, it's time to make the switch today. Our team is ready to assist you with any questions you may have, providing a quote, or anything else we can help with. Simply contact us online or give us a call at (954) 510-8873 to get started!