Artificial Grass Repair in Lake Worth
Is your artificial grass starting to show signs of wear and tear? Are there areas of your lawn that are thinning out or have become discolored? Don't worry, Gator Turf is here to help with our artificial grass repair services in Lake Worth, Florida.
Our team of experts has years of experience in repairing and maintaining artificial grass lawns. We understand that even the highest-quality artificial grass can experience wear and tear over time, particularly in high-traffic areas or in spots that are exposed to the elements. That's why we offer comprehensive artificial grass repair services to restore your lawn to its original pristine condition.
Our repair services include patching up holes or tears, replacing damaged sections of grass, and fixing any issues with the infill. We use only the highest-quality materials and equipment to ensure that your lawn looks as good as new once our work is complete.
It's no mystery that a well-maintained artificial grass lawn can offer numerous benefits, including lower maintenance costs, increased durability, and improved aesthetics. That's why we are committed to providing top-notch repair services to our customers in Lake Worth, Florida.
Whether you need a minor repair or a complete overhaul of your artificial grass lawn, our team of experts is here to help. We take pride in our work and will work tirelessly to ensure that your lawn looks and performs its best. So why wait? Contact us today to learn more about our artificial grass repair services in Lake Worth, Florida.
Gator Turf Is Your Local Solution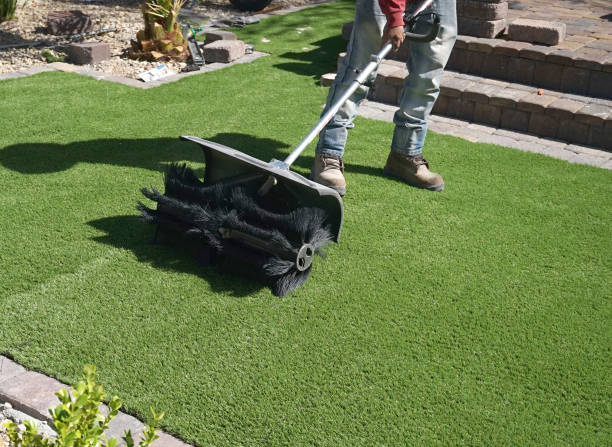 Are you in need of artificial grass repair in Lake Worth, Florida? Look no further than Gator Turf! Our experienced team specializes in restoring and repairing worn or damaged synthetic turf, ensuring that your yard or commercial property looks its best year-round. We understand that regular wear and tear can take a toll on your artificial grass, but our team has the skills and expertise needed to bring your turf back to life.
We know that every artificial grass repair project is unique, and we take the time to carefully assess the damage and develop a customized repair plan. From repairing seams and tears to filling in bare spots, our team uses the highest quality materials and techniques to ensure a seamless repair that blends in with your existing turf. We are committed to delivering exceptional results and exceeding your expectations, so you can enjoy a beautiful, lush lawn without the hassle of traditional grass maintenance.
Advantages of Artificial Turf Repair in Lake Worth
One of the major advantages of synthetic turf is its unmatched durability. While natural grass can become damaged and worn out due to weather conditions and foot traffic, synthetic turf is built to withstand heavy use and maintain its appearance for years to come. This means that you can enjoy a beautiful, green lawn without worrying about the upkeep and maintenance that comes with natural grass.
Synthetic turf requires minimal maintenance and doesn't need to be watered, fertilized, or mowed like natural grass. This can save you time and money on landscaping services, allowing you to spend more time enjoying your outdoor space.
Natural grass can vary in thickness and quality, which can affect the overall look of your lawn. However, with synthetic turf, you can achieve a perfectly manicured look year-round, regardless of the weather or season.
In the long run, synthetic turf repair can be a cost-effective solution. Although the initial investment may be higher than natural grass, synthetic turf's low maintenance and long-lasting nature can save you money on landscaping services in the long term. Choose Gator Turf for your artificial grass repair needs in Boca Raton, Florida, and enjoy a high-quality, long-lasting lawn.
The Gator Turf Difference
When it comes to artificial grass repair in Boca Raton, Florida, Gator Turf is the company to turn to. While synthetic turf is low maintenance, it still requires occasional repairs to ensure it continues to look and function its best. Our team of experienced professionals can repair damaged areas of your artificial lawn, saving you the hassle and expense of having to replace the entire installation.
Whether your turf has been damaged by heavy foot traffic, weather conditions, or other factors, we can assess the issue and provide effective repairs that will restore your lawn to its former glory. Our repairs are designed to blend seamlessly with the surrounding grass, so you won't even be able to tell where the damage was.
Have Your Artificial Turf Repaired Today!
Artificial turf repair in Lake Worth will keep your turf looking its best all year long! If you're still using natural grass, it's time to make the switch today. Our team is ready to assist you with any questions you may have, providing a quote, or anything else we can help with. Simply contact us online or give us a call at (954) 510-8873 to get started!