Artificial Grass Repair in Hialeah
 Is your synthetic turf in Hialeah displaying signs of wear and tear? Have sections of your artificial lawn begun to thin out or exhibit discoloration? Fret not, because Gator Turf is your ultimate solution for expert artificial grass repair in Hialeah, Florida.
Our dedicated team at Gator Turf consists of skilled specialists who are well-versed in the art of mending and upkeeping artificial grass landscapes. We comprehend that even premium-grade synthetic turf can undergo wear and tear over time, especially in frequently trodden areas or sections exposed to the elements. This is precisely why we offer all-encompassing artificial grass repair solutions that will rejuvenate your lawn to its original splendor.
Our repair offerings span a wide array of remedies, all tailored to cater to your distinct requirements. Be it fixing holes or tears, replacing sections of damaged turf, or resolving any infill-related concerns, our seasoned technicians are committed to addressing every facet of your lawn with meticulous precision and care. We employ only the finest materials and cutting-edge equipment to ensure exceptional outcomes.
Maintaining an impeccably manicured artificial grass lawn brings along a host of advantages, including reduced maintenance expenses, heightened resilience, and an overall improved aesthetic. At Gator Turf, we are committed to delivering top-notch repair services to our esteemed clients in Hialeah, Florida.
Regardless of the magnitude of the repair task at hand, our adept team is fully prepared to tackle any challenge. We take immense pride in our craftsmanship and exert relentless effort to ensure that your lawn not only exudes flawlessness but also functions optimally. The time for hesitation is over – reach out to us today to explore the realm of our expert artificial grass repair services in Hialeah, Florida.
Gator Turf Is Your Local Solution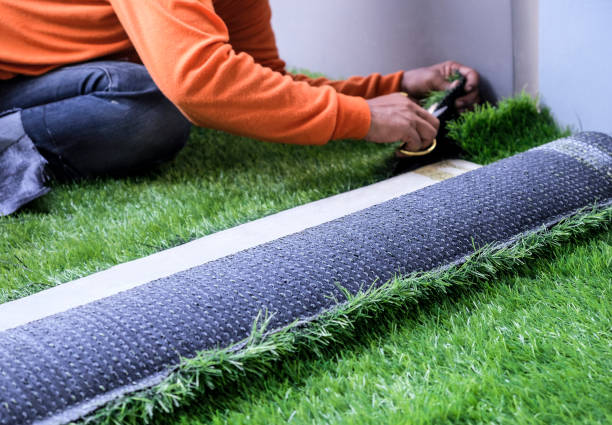 Gator Turf is your reliable partner for top-notch artificial grass repair in Hialeah. Our dedicated team excels in rejuvenating and fixing tired or damaged synthetic lawns, ensuring your residential or commercial property maintains its impeccable appearance all year long. Whether it's addressing torn seams, patching up gaps, or reviving bare patches, we employ top-tier materials and methods to deliver a seamless repair that seamlessly integrates with your existing turf. Our tailor-made repair strategies are meticulously designed to cater to the specific requirements of each project, guaranteeing outstanding outcomes that go beyond your anticipations. Embrace the allure of a vibrant, thriving lawn without the headaches of conventional grass upkeep with Gator Turf – the ultimate authority in artificial grass repair in Hialeah and beyond.
Advantages of Artificial Turf Repair in Hialeah
Transform your lawn into a resilient masterpiece that can withstand heavy usage and retain its pristine charm for years on end. Unlike its natural counterpart, synthetic turf boasts unparalleled durability against both harsh weather conditions and frequent foot traffic. At Gator Turf, we take immense pride in providing exceptional services for "Artificial Grass Repair in Hialeah," ensuring that your outdoor space remains ever-vibrant and inviting.
The consistency of natural grass can be inconsistent, influencing the overall appeal of your lawn. By opting for synthetic turf, you can achieve a reliably polished appearance, regardless of varying weather or seasonal changes. Gator Turf proudly guarantees a visually impeccable lawn that retains its enchantment year-round, enhancing the aesthetic charm of your property in Hialeah, Florida.
The Gator Turf Difference
Gator Turf stands out as the leading choice for top-tier artificial grass repair in Hialeah, Florida. Our dedicated team of experts comprehends the significance of upholding the flawless look and operational efficiency of synthetic turf. Be it the aftermath of heavy usage, unforgiving weather elements, or other detrimental factors, we boast the proficiency to meticulously assess the problem and administer highly effective repairs that will seamlessly revive its initial splendor. By opting for our superior repair remedies, you can steer clear of the inconvenience and financial burden of a complete replacement.
Gator Turf takes immense satisfaction in achieving remarkable outcomes that surpass the expectations of our valued clientele. Employing cutting-edge methodologies and premium-grade materials, we ensure repairs that are built to last. Our ultimate objective revolves around seamlessly merging the repaired sections with the neighboring grass, leaving no hint of previous damage. Rely on our professional and dependable service, and rest assured that your artificial lawn will undergo meticulous repairs, upholding its visual charm and functionality for the years ahead. Don't hesitate to get in touch with Gator Turf today for unparalleled artificial grass repair services in Hialeah, Florida. Let us embark on the journey of restoring the allure and effectiveness of your synthetic turf.
Have Your Artificial Turf Repaired Today!
Artificial turf repair in Hialeah will keep your turf looking its best all year long! If you're still using natural grass, it's time to make the switch today. Our team is ready to assist you with any questions you may have, providing a quote, or anything else we can help with. Simply contact us online or give us a call at (954) 510-8873 to get started!