Artificial Grass Repair in Coral Gables
If you're in Coral Gables, Florida, and noticing signs of wear and tear on your once-pristine artificial grass lawn, look no further than Gator Turf for artificial grass repair services. Our team of highly trained experts is here to ensure that your artificial grass is restored to its original beauty and functionality, making it a worthwhile investment for years to come.
At Gator Turf, we've been serving Coral Gables residents for years, perfecting artificial grass repair and maintenance. Even the best quality artificial grass can experience wear and tear over time, especially in high-traffic zones or areas exposed to the elements. Our team understands these challenges and offers comprehensive repair solutions that will have your lawn looking flawless again.
A well-maintained artificial grass lawn offers a range of benefits, including reduced maintenance costs, enhanced durability, and improved aesthetics. At Gator Turf, we're passionate about providing Coral Gables, Florida residents with the best repair services available, ensuring your lawn continues to impress for years to come.
Whether you need a quick touch-up or a complete overhaul of your artificial grass lawn, our skilled experts are ready to assist you. We're dedicated to delivering exceptional results, ensuring that your Coral Gables lawn remains a sight to behold. Contact Gator Turf today and learn more about our exceptional artificial grass repair services in Coral Gables, Florida.
Gator Turf Is Your Local Solution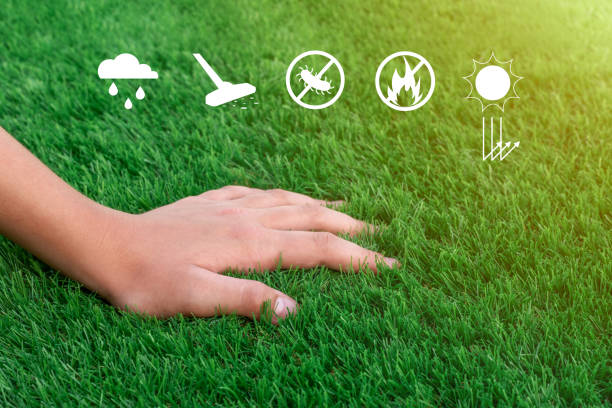 As your local solution for artificial grass, we take pride in transforming yards and commercial properties into stunning, low-maintenance landscapes that stay green and vibrant year-round. Whether you need a complete installation or a reliable repair service, we've got you covered!
We understand that each project is unique and requires personalized attention. When it comes to artificial grass repair, our skilled technicians thoroughly assess the damage, devising a tailored plan to address any issues. Whether it's repairing seams, patching tears, or filling in bare spots, we utilize top-quality materials and advanced techniques to ensure a seamless and natural-looking repair that seamlessly blends with your existing turf.
Advantages of Artificial Turf Repair in Coral Gables
One of the top-notch benefits of having artificial turf installed is its unmatched durability, especially when you consider the weather conditions and foot traffic in Coral Gables. Unlike natural grass that can easily wear out and get damaged, synthetic turf from Gator Turf is designed to withstand heavy use, maintaining its pristine appearance for years to come. This means you can have a lush and green lawn without the constant worry of upkeep and maintenance that's typically associated with natural grass.
Another significant advantage of opting for synthetic turf is the consistency it brings to your lawn's appearance. Natural grass can sometimes vary in thickness and quality, leading to an uneven and less visually appealing landscape. On the other hand, Gator Turf's artificial grass ensures a perfectly manicured look all year round, regardless of the unpredictable Coral Gables weather.
Don't let the worries of constant upkeep and expenses deter you from having a stunning lawn. Trust Gator Turf to handle all your artificial turf repair needs in Coral Gables, Florida. Our team of experts is dedicated to providing high-quality, long-lasting solutions, giving you the outdoor space you've always dreamed of.
The Gator Turf Difference
Synthetic turf is a game-changer when it comes to low maintenance requirements. Unlike natural grass which demands constant watering, fertilizing, and mowing, artificial turf doesn't need such intensive care. Say goodbye to time-consuming yard work and the expense of hiring landscaping services, as our synthetic turf solutions in Coral Gables are designed to offer you a hassle-free and cost-effective alternative.
Have Your Artificial Turf Repaired Today!
Artificial turf repair in Coral Gables will keep your turf looking its best all year long! If you're still using natural grass, it's time to make the switch today. Our team is ready to assist you with any questions you may have, providing a quote, or anything else we can help with. Simply contact us online or give us a call at (954) 510-8873 to get started!