Artificial Grass Repair Boca Raton
Is your artificial grass in need of repair in Boca Raton, Florida? Gator Turf is here to help you breathe new life into your lawn. Our team understands that maintaining artificial turf can be a challenging task, particularly in Florida's hot and humid weather. That's why we offer top-notch artificial grass repair services to ensure that your lawn looks and performs its best year-round.
Artificial grass is an excellent alternative to natural grass, offering minimal maintenance and repair requirements while providing a consistent, lush appearance. However, over time, even the most durable synthetic turf can suffer wear and tear, and repairs may become necessary. Our Boca Raton team specializes in repairing various types of artificial turf, from residential lawns to commercial landscapes.
Our artificial grass repair process involves identifying the damaged areas and determining the cause of the damage. We will then provide you with a detailed plan for repairing and restoring your lawn. Our team has the experience and expertise to handle any repair job, from minor issues such as seam repairs to more extensive repairs like fixing drainage problems or replacing damaged turf.
To ensure satisfaction, we use only the highest quality materials and equipment to ensure that your artificial grass repair is completed to the highest standard. Our team of experts is committed to providing you with the best possible service, and we take pride in our attention to detail and exceptional customer service.
If you're in need of artificial grass repair in Boca Raton, look no further than Gator Turf. Our team is dedicated to ensuring that your lawn looks and performs its best. Contact us today to learn more about our artificial grass repair services and how we can help you get your lawn back in top shape.
Gator Turf is Your Local Solution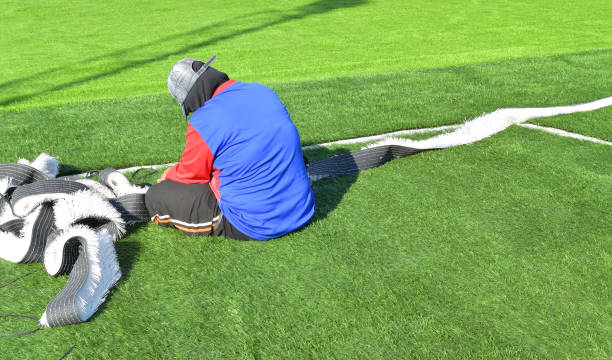 At Gator Turf, we understand that your artificial grass may need repair from time to time. Our team of experts in Boca Raton, Florida, is here to help you get your artificial grass looking brand new again. We specialize in a variety of repairs, including patching up holes, replacing damaged turf, fixing drainage issues, and more. Our team has the skills and experience to get the job done right the first time. Whether you need repair services for your residential or commercial property, we're here to help. Contact us today to schedule your artificial grass repair appointment in Boca Raton.
Advantages of Artificial Turf Repair in Boca Raton
If you have artificial grass in your Boca Raton home or business, it's important to keep it in good condition to ensure it lasts as long as possible. One of the major advantages of artificial grass repair is its durability. Unlike natural grass, which can become damaged and worn out due to constant use, artificial turf is built to withstand heavy traffic and continuous activity. With regular repair and maintenance, you can keep your artificial grass looking and performing like new for many years to come.
Artificial grass repair is that it can help to maintain a consistent playing surface. Over time, artificial turf can develop uneven areas, which can affect player performance and increase the risk of injury. By repairing these areas, you can ensure that your artificial turf remains uniform and safe for all users.
In addition to improving performance and safety, artificial grass repair can also be a cost-effective solution. While the initial investment in artificial turf may be higher than in natural grass, repairing it is generally more affordable than replacing it entirely. By investing in regular repair and maintenance, you can extend the life of your artificial turf and avoid the need for costly replacements down the line.
Gator Turf offers comprehensive artificial grass repair services in Boca Raton and the surrounding areas. Whether you need to repair a small patch of turf or fix a larger issue, our experienced technicians have the skills and expertise needed to get the job done right. 
The Gator Turf Difference
At Gator Turf, we use only the highest quality materials for our repairs, ensuring that your lawn will look great and last for years to come. We also offer competitive pricing and exceptional customer service, so you can trust that you're getting the best value for your investment.
Don't let a damaged artificial lawn ruin the look of your Boca Raton property. Contact Gator Turf today to schedule your repair appointment and get your lawn looking like new again.
Have Your Artificial Turf Repaired Today!
Artificial turf repair in Lake Worth will keep your turf looking its best all year long! If you're still using natural grass, it's time to make the switch today. Our team is ready to assist you with any questions you may have, providing a quote, or anything else we can help with. Simply contact us online or give us a call at (954) 510-8873 to get started!