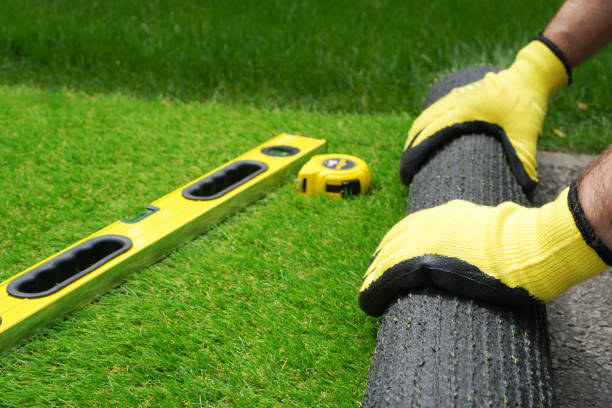 5 Common Misconceptions About Artificial Turf Installation
Mar 2, 2023
Artificial turf installation is an excellent way to enhance the look and functionality of your outdoor spaces. It offers numerous benefits, such as lower maintenance costs, increased durability, and water conservation. However, some misconceptions about artificial turf can prevent homeowners from considering this option. In this blog post, we'll debunk five common myths about artificial turf installation and provide accurate information to help you make an informed decision. 
If you're living in Florida, Gator Turf can provide you with the artificial turf systems you need. 
Myth #1: Artificial turf looks fake
One of the most common misconceptions about artificial turf is that it looks fake and unnatural. Today's artificial turf is designed to mimic the look and feel of natural grass. Modern materials and technology have allowed for the creation of turf that looks and feels almost identical to real grass.
Gator Turf offers a wide range of artificial turf options, including various textures, colors, and blade lengths. Our turf is made from high-quality materials that are both durable and realistic. With proper installation and maintenance, your artificial turf can look just as good, if not better, than natural grass.
Myth #2: Artificial turf is high maintenance
Another myth about artificial turf installation is its high maintenance. In reality, artificial turf requires much less maintenance than natural grass. It doesn't need to be watered, mowed, or fertilized, which saves both time and money.
However, like any outdoor surface, artificial turf does require some upkeep to keep it looking its best. You'll need to rinse it off periodically, remove debris, and brush the fibers to keep them upright. We offer maintenance services to help keep your artificial turf in excellent condition year-round.
Myth #3: Artificial turf is bad for the environment
Another misconception about artificial turf is that it's bad for the environment. Some people believe that artificial turf is made from harmful materials and can contribute to pollution.
The reality is that artificial turf can actually be beneficial for the environment. It doesn't require water, which can conserve one of Florida's most precious resources. It also eliminates the need for harmful pesticides and fertilizers, which can pollute the air and water.
Some artificial turf is made from recycled materials, which can help reduce waste and conserve natural resources. Gator Turf offers eco-friendly artificial turf options that are made from recycled materials and contribute to a greener planet.
Myth #4: Artificial turf is too expensive
Many people assume that artificial turf installation is too expensive and not worth the investment. However, the cost of artificial turf has come down significantly in recent years, making it a more affordable option for homeowners.
Artificial turf can actually save you money over time. It doesn't require the same level of maintenance as natural grass, which means lower water bills, reduced landscaping costs, and fewer repairs. In the long run, artificial turf can be a cost-effective solution that adds value to your home.
Gator Turf offers a range of artificial turf options to fit any budget. Our team can work with you to find the right solution that meets your needs and your budget.
Myth #5: Artificial turf is difficult to install
Some people believe that artificial turf installation is a difficult and time-consuming process. While it's true that installation requires some skill and expertise, it's not as complicated as you might think.
At Gator Turf, we have years of experience installing artificial turf in Florida's unique climate and terrain. We use the latest technology and techniques to ensure that your turf is installed correctly and efficiently. Our team will work with you to create a customized installation plan that fits your schedule and your needs.
An artificial turf installation is a great option for homeowners who want to enhance the look and functionality of their outdoor spaces. By debunking the common myths about artificial turf installation and providing accurate information, we hope to help more people make an informed decision about this great alternative to natural grass. We're committed to providing high-quality artificial turf installation services to our clients across Florida. Whether you're looking to improve your backyard, golf course, or commercial property, we have the expertise and resources to help.
If you're interested in learning more about artificial turf installation or would like to schedule a consultation, contact Gator Turf today. Our team is always happy to answer your questions and help you find the best solution for your needs. Let us help you transform your outdoor spaces with beautiful, realistic, and low-maintenance artificial turf.