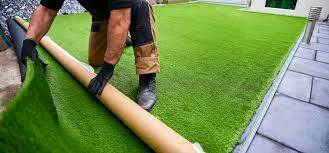 Things To Know Before Having Artificial Turf Installed
Oct 3, 2021
Artificial turf has been the craze for homeowners everywhere due to its amazing durability and year-round appearance. Before having artificial turf installed, it's important to think about a few things to make sure it's the solution for you. With a lifespan of 10-20 years, artificial turf can last a long time. Gator Turf offers different types of artificial turf as well. These different types all have different properties that thrive depending on the usage. If you've been thinking about having artificial turf installed, consider the following key aspects to make sure you're familiar with the landscaping, installation, and maintenance. 
Plans For The Outdoor Area
Which artificial turf you decide to go with will completely depend on what your plans are for the area in which it's being installed. The different products that Gator Turf offers will be used differently for people with no pets or children compared to someone who runs a daycare or has multiple pets. The most important aspect you can consider is the amount of foot traffic the area where the turf will be installed sees. Whether it's human foot traffic or pets roaming around, it all matters. Consider how much time will be put towards maintenance as well as if the turf will be used for sports. These factors all play into the lifespan and how long the turf will keep its highest quality.
What Artificial Turf Should I Go With?
Once you know what the landscaping will experience, now is time to find the right product. Gator Turf offers over a dozen different types of artificial turf to choose from. Each has different qualities that will provide different results. We have turf meant for putting on golf courses to turf meant for pets. There are three main things to consider when having artificial turf installed. These are the turf weight, blade height, and blade color. The most common types of blade color include olive green, lime green, and field green. The colors are often blended together to create a more authentic and realistic look. Turf weight is the weight of the product infused within the fibers. The heavier it is, the more durable and longer-lasting it will be. For homeowners who plan on having more foot traffic, a heavier weight is the way to go. Blade height is simply how tall the individual blades are. If you're looking for a more durable turf, shorter fibers are the preference. If you want a more aesthetically pleasing appearance at the cost of durability, longer blades will give you just that. It's best that longer blades don't see as much foot traffic. 
Artificial Turf Maintenance
While most artificial turf doesn't require much maintenance, it's still important to think about how much time you're willing to spend maintaining it. Once you have artificial turf installed, the most maintenance that it will require is rinsing with a hose. This ensures the turf retains its quality and doesn't produce any odors, doesn't stain, and doesn't become flat.
Get Turf Today
Artificial turf is the best way to have a healthy-looking lawn all year-round. Gator Turf wants to make that happen! Artificial turf is the best landscaping solution for homeowners everywhere thanks to its ability to survive extreme conditions. Once you have artificial turf installed, you won't want to go back! If you're looking for a low-maintenance landscaping solution, contact Gator Turf today! Visit our contact page if you have any questions or call us at 954-510-8873 (Boca Raton), 813-803-8873 (Tampa), or 407-472-9777 (Orlando).